We know Jenna Bass as one of the exceptional South African scriptwriters, especially through her collaboration for Rafiki. In her feature High Fantasy, she tackles cleaving issues in its concept and, at the same time, in its topic by mixing racism and sexism.
High Fantasy embarks the public on a camping trip on a farm in the southern part of South Africa. On board, Lexi and Xoli, two young South African girls, share the weekend with Tatiana and her friend Thami, a boy with an eccentric and sexist behavior. Even if Lexi and Xoli have just met him for the first time, everything goes well until the second day. Four of them wake up in swapped bodies. The weekend turns into a nightmare. While they are looking for a solution, tragic conflicts in the past emerge and put them on edge.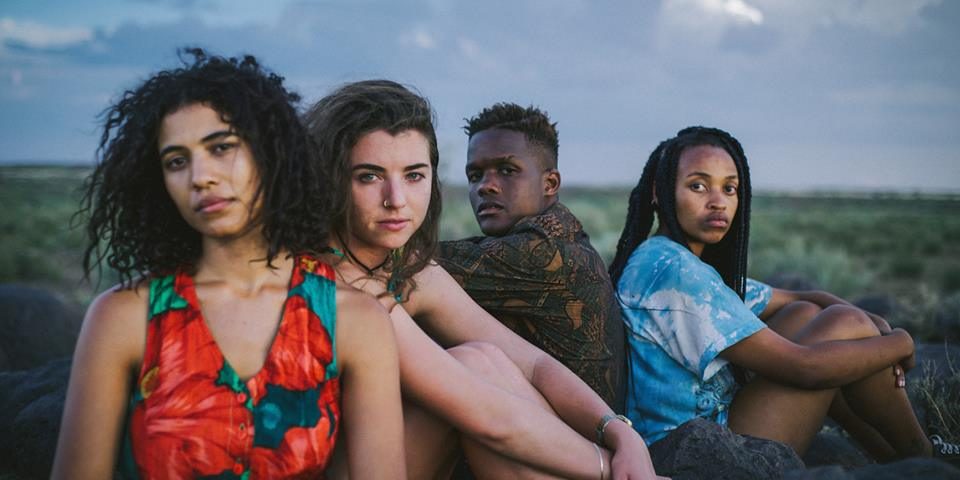 High Fantasy was shot mostly with an iPhone. The movie is edited from the sequences that these young people recorded during their adventure. In many scenes, the camera is shaking and the brightness is low. However, the scenes are very colorful. That fits the idea of a "road trip" and its subject, the Rainbow Nation.
Some conformist filmmakers may take it bitterly because of its flawed DIY aesthetic, but Jenna Bass uses these imperfections to emphasize the gap between reality and our opinions about how peaceful life in South Africa is. One by one, these characters become the ones behind the camera. Then, with many interruptions, Jenna sets steady and settled down shots. The movie turns into a TV reality show made of interviews. Off screen, she asks every character about their feelings. These interviews help us understand the intrigue, even if the story is repeated too many times as if, otherwise, the public would not get it. From time to time, a magnificent aerial shot shows the beauty of the camping place.
Evoking racism in a country where the inequality between white and black people is still obvious already increases the level of the movie. In High Fantasy, not only Jenna talks about this issue but she also stresses out sexism issues and the way young people deal with their relationship despite the difference between the colors of their skin.
With all of these subjective shots, she puts the public in the position of her characters and that of an interviewer. All along this movie, we are plunged into the privacy of each one of them and in their vision of others and of our society. But we also take some distance and become a real observer and are freed from any judgment through the aerial shots.